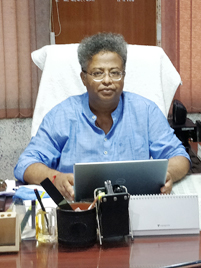 Prof. Pulak Mohan PandeyDirector, BIET Jhansi
A good establishment endeavors consistently for improvement of value in each field of its action. BIET works industriously to understand its central goal of giving the best picking up, educating and research freedoms to students and academicians. We will likely be the most favored selection of students, staff and industries by accomplishing prominence in Technical and Management training programs using the highest standards of quality, innovation.
According to the New Education Policy – 2020 for comprehensive worth based instruction, our goals of bestowing proficient teaching, joined with encouraging imaginative thinking, use of information, instilling proficient morals and cognizance to social obligations, are being met at BIET in a coordinated structure. The Institute is offering 07 Undergraduate, 05 Postgraduate AICTE endorsed programs, with 2000 understudies and very capable resources. We are submitted for guaranteeing quality education thus; most of the branches are accredited by NBA.
Apart from educational plan based investigations, we wish to empower and advance exploration exercises and coordinate them with the instructing learning measure. The blueprints to accomplish these we are additionally advancing industry important undertakings, Research & Development and consultancy to overcome any barrier between scholastics and industry necessities. The emphasis is made on the advancement of imaginative driven undertakings, collaboration with businesses, delicate expertise and character improvement, co-curricular and extra-curricular exercises. We consistently lead public and worldwide meetings, courses, studios, conferences, and different occasions in various fields of expert talks and trainings. We have faith in deep rooted learning and preparing prompting advantages of the general public. BIET, Jhansi has reliably centered on planning practice-situated learning and a contemporary industry-centered educational plan, driven by our solid Institute Industry Interface to meet the target of New Education Policy.
Our Indian culture is the legacy of accepted practices, moral qualities, conventional traditions, conviction frameworks, political frameworks, curios and advances so our goal is to teach these qualities with guiding principle of information, character, greatness, respectability, straight forwardness, quality, collaboration, trust, constant and understudy driven learning are on the whole firmly incorporated into our scholarly projects. We have large number of Alumni who involve pined for positions both in India and abroad and are a wellspring of pride and motivation for us.
BIET, Jhansi has best in class library having more than 35,700 print books and electronic memberships of more than 4400 e-journals and 650 e-books. The Institute has exceptional labs, savvy classes with smart classroom media & equipments that help enriching teaching learning experience and classroom delivery. The institute has gigantic workshops with Innovation & Incubation Cell, Startup cell, Drone Flying club, Racing Car Club etc. The institute has fully equipped AC Auditorium and all academic blocks are interconnected together via corridors. We are committed to constantly upgrade and improvise our infrastructure in tune with future requirements.
I am confident that with the concerted efforts of team BIET, the Institute will scale up to the greater heights of excellence in the years to come. BIET has immensely contributed to the nation building by providing world-class engineers and management professionals with intellect talent possessing latest analytical, design, practical and managerial skills to meet the demands of the fast-changing global society. Our institute has indeed become a symbol of quality education and dedicated to prepare youth professionals of our country with professional talent and aspirations with highest standard of long term moral and ethical values creation.